Commission an original oil painting for your home or office.

Original works include wildlife, landscape, and pet portraits created by the artist or by using your favorite photo as reference.

Pet Portraits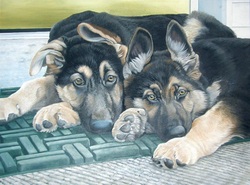 A pet Portrait is a wonderful way remember the friends we share our lives with.
Capture the memories shared with your pet with a custom portrait
by Bob Travers.





Size Availability and prices for pet portraits:
12"x16" Portrait (best for smaller animals) $550.00
16"x20" Portrait (best for larger animals) $750.00
Additional head image in a single work, add $250.00 for 12"x16" or $350 for 16"x20"

Full Figure 12"x16" $750.00 Full Figure 16"x20" $$950.00

With full background scene add $350.00 for 12"x16" add $550.00 for 16"x20"

Special sizes are available and suggested for multiple images


A note about payment policy: A pet portrait is a very time consuming, one of a kind custom endeavor. Materials such as boards, paint and brushes are quite costly. Because this creative process is a major commitment on my part, I accept orders with full payment to ensure the sincerity of your request. However, please know that I will not deposit your check until the portrait is completed and has met with your approval. I like to include my clients in the creative process and show a pencil version of the portrait in progress before laying in the paint. At this time your input is greatly appreciated in order to capture the likeness and personality of your pet. Should you, for any reason, not like the finished portrait, your money will be refunded less a 25% fee to cover the cost of my time and materials. Usual delivery is 4-6 weeks. With your photos, please include your check or money order payable to Bob Travers.
---