Students win big in 2013 NC Junior Duck Stamp Competition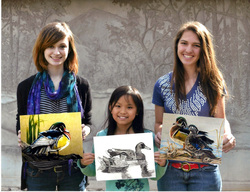 17 year old Parker Bobbitt, and 9 year old Leah Morissey won first place honors in this years Junior Duck Stamp competition while 15 year old Elyssa Bakker took Best in Show and went on to compete in Nationals against 53 other entries from around the country where she placed in the top ten.

---
Student wins 1st place and the judges award of excellence at the
WNC 2012 State Fair.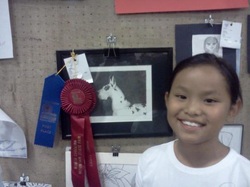 Leah Morissey. Age 9.
Takes art classes at Willow Wisp Farms Studio in Fairview, NC. This was her first pencil drawing with instructor Bob Travers since signing up for the class just a few short months ago.
Leah is just one of several very talented 9 and 10 year old's studying art in Fairview and Black Mountain.

Congratulations Leah. Keep up the great work.

---
Students Win Big Awards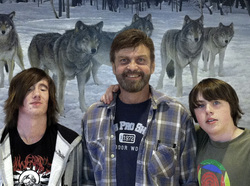 BMCA Art Students Win Two First Places in Junior Duck Stamp Competition
Tucker Besosa and Ethan Robinson recently learned that their entries in the North Carolina phase of the competition of the Federal Junior Duck Stamp Program, sponsored by the US Fish and Wildlife Service, won First Place awards. Students of internationally known wildlife artist and Drawing and Painting teacher at the Black Mountain Center for the Arts Bob Travers, both boys entered colored pencil on board drawings.
The 2011 competition drew 365 entries from North Carolina students in grades 1-12, with one First Place winner selected from each grade. One Best of Show winner is announced that goes to national competition. This year that winner is Brandt Brown from Fayetteville. Although both boys are home schooled, Robinson, 15, won for his entry in grades 7-9, and Besosa, 16, won for his entry in grades 10-12. They were the only students from western NC to place. Ethan is one of five sons of Steve and Tina Robinson of Black Mountain; Tucker is one of four sons of Kathy and Brent Besosa of Asheville.
Travers, who encourages his students, especially school-aged, to enter as many competitions as possible, has produced a large number of winners in various art contests through his classes. Both Ethan and Tucker have won or placed in other competitions prior to this year. Explaining about the competition, Travers said, "They have to come up with an original design (of one of forty-six native North American duck or swan species) and their own composition. They can use photos as guidelines, but Tucker and Ethan looked at photos from my files, then combined images of individual birds. What I teach them is the elements of design, composition, technique, and how to work with the medium. They choose the medium for their entry. The only restriction, other than subject matter, is size, which must be 9x12." Design, anatomical accuracy, artistic composition, and suitability for reproduction on a small stamp are the criteria for judging. Travers continued, "I am incredibly proud of both of them and their dedication." Robinson has studied with Travers about four years, and earlier with Lorelle Bacon for two years. Besosa has studied with Travers about three years.
Ethan's drawing, entitled "Courting's Reflection," is of a male and female wood duck on water. It took him about fifteen hours to complete. When asked when he first realized he had a gift for art, Ethan stated, "I didn't know I had a gift – I just thought it was fun! I've been drawing since age two. I would use stacks and stacks of paper. My favorite thing was to draw crabs at the beach. I was fascinated by the claws."
The drawing Tucker entered was "Too Early to Fly," a picture of two geese in water in a misty early morning, and took him about thirteen hours to complete. Tucker has enjoyed drawing since about age four, but doesn't have a favorite subject. He likes to enter the competitions to see how he comes out in standing against other artists his age.
The Junior Duck Stamp competition was enacted by the US Congress in 1994. One winner from each state competes annually in Washington, DC for the national prize, which includes a monetary award, but also their drawing is reproduced on a stamp sold by the US Post Office to help support environmental education programs and provide scholarships. Although Ethan and Tucker are not able to compete for that prize this year, they each were awarded art supplies from state sponsor Jerry's Artarama in Raleigh, and they each have more years to compete.
Student wins 1st place in NC Federal Junior Duck Stamp Competition
Tucker Besosa, a home schooled 14 year old art student who attends classes at the Black Mountain Center for the Arts, recently won a first place award for his painting of a pair of Hooded Mergansers by competing in the 2009 North Carolina Federal Junior Duck Stamp Program.
This year, the North Carolina Junior Duck Stamp program continued it's partnership with the NC Wildlife Resources Commission and the East Carolina Wildfowl Guild to host the competition. Jerry's Artarama, a well known fine art supply store continued it's sponsorship of the program providing more than $2,000.00 in prizes that will be awarded to this years winners. Four Hundred and eighty six students participated in this year's competition held on January 28th at the North Carolina Estuarium in Washington NC. The Federal Junior Duck Stamp Conservation Design Program is an integrated art and science curriculum developed to teach environmental science and habitat conservation.
The first place national winning design is used to create a Federal Junior Duck Stamp each year. Proceeds from the sale of the Duck Stamps (which cost $5.00 each) support conservation education by providing awards and scholarships for the students, teachers and schools that participate in the program.
This is not Tucker's first art award since attending classes at the Art Center. In May of 2008, he also won a place in the NC Wildlife Recourses Commission Junior Calendar Competition. Out of 3,336 entries, Tucker was awarded one of the top12 slots to appear in the commissions 2009 calendar. Tucker is a young man with a lot of talent. He will be entering the high school level next year and already has his sights set on attending the Savannah College of Art and Design.
Black Mountain Center for the Arts Student Wins National Youth Wildlife Art Contest.
Will German, age 9, was having a very lucky day last week. First, he lost his pet snake; then he found it. Then one of his favorite teams, the Carolina Panthers, won their game. He was already excited. Then he and his family received word that Will won First Place for grades 1-3 in the National Youth Wildlife Art Contest with a prize of $500. Will's reaction was to jump around in joy. With his earnings, German plans to put some in savings to help pay for future art classes, and to hold some back to be able to spend.
Will is a student of Bob Travers in his Painting and Drawing class at the Black Mountain Center for the Arts, located in the old City Hall at 225 W. State Street. Travers, a graduate of the Pratt Institute, is a nationally recognized and award-winning wildlife artist. He teaches painting and drawing classes to ages 8 through retirees at the Center two days a week. Will has been a student of his for 2 years.
Obviously Travers has a positive impact on Will's painting. When Will returned to classes after summer break and was making a decision on what to paint, Travers suggested the idea to Will of painting a turkey, which they in turn chose to be his entry for the contest. When asked how he would encourage other kids who are interested in art, Will said, "Mr. Bob helped teach me a lot to win it. You should take lessons from him."
This year, in addition to German's First Place, Tanner Besosa, won an Honorable Mention in grades 4-6 for his painting of a buffalo. Six other students of Travers also entered. Travers encourages all his students, but especially young people, to enter local, state, regional, and national contests on a regular basis. In 2007 three of his students won monetary awards in this particular contest, sponsored through the NRA, and supported through a gift from Jim Broering, President of AcuSport Corporation, for the creation of the James and Kathleen Broering Endowment. Other students of Travers at BMCA have had their paintings chosen to be in the NC Wildlife Commission's annual calendar.
Will's repertoire of paintings includes wildlife, landscapes, a self-portrait, and ships. Because he has liked ships since he was a little boy, they are Will's favorite things to paint. In his winning entry, Will thought the most difficult thing to paint was the feathers where the neck joined the body. His favorite part to paint was the background, an impressionistic landscape of yellow, gray and green.
Last year the National Youth Wildlife Art Contest brought in over 800 entries. Although it isn't known exactly how many competed in Will's age group this year, Will estimated he was competing against at least 200 first-third graders in his division. When asked what made his the best, this was Will's impressive answer, "It's not all about me - it's the judges - it's Mr. Bob," showing that at this young age he is aware that having a good teacher is important, and that other than doing one's best, participants seldom have control over the outcome.
A student in Ms. Council's third grade class at the local primary school, German is the son of Dr. Christina Smith and Christopher German. His mother helped him name his winning entry, "Wild Turkey in the Meadow." To view the winning entries, go to
http://www.nrahq.org/youth/wildlife.asp
.
---